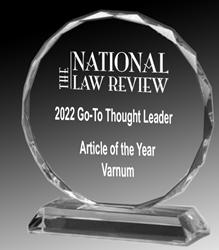 The Nationwide Regulation Assessment is among the extra discerning authorized publications, our editors chosen well-read contributors who demonstrated distinctive experience of their authorized specialty, and really need to be acknowledged.

CHICAGO (PRWEB)
December 19, 2022
The Nationwide Regulation Assessment (NLR) "Go-To Thought Management Awards" acknowledges 75 distinctive authors and authorized organizations for his or her reporting of complicated legislative and litigation information, in addition to their strategic perception and total business information. Lower than 1% of the Nationwide Regulation Assessment contributing authors are acknowledged every year.
Jennifer Schaller, Managing Director of the Nationwide Regulation Assessment:

"That is the fifth 12 months we have acknowledged distinctive contributing authors and with such an unlimited pool of gifted writers, it is robust to decide on. The NLR is among the extra discerning authorized publications, so our editors appeared for contributors who demonstrated distinctive experience of their authorized specialty."
Chandler Ford, the Nationwide Regulation Assessment's Editorial Supervisor:

"After reviewing hundreds of contributed articles, some authors stand out as providing NLR readers exceptionally insightful and helpful authorized evaluation and constantly draft content material that will get the eye of each readers and different publications. We're extraordinarily grateful for all of our contributors all year long, and thank them for his or her ongoing dedication to producing the very best high quality of thought management."
This 12 months we acknowledged authors in over 30 classes starting from Antitrust Regulation to Whistleblower Information. Please be a part of us in congratulating the Nationwide Regulation Assessment 2022 Go-To Thought Chief Management Awards recipients:
2022's Article of the Yr: Federal Vaccine/Testing Mandates Take Impact Whereas Supreme Court docket Stays Silent by Luis E. Avila, Maureen Rouse-Ayoub, Stephanie R. Setterington, and Elizabeth Wells Skaggs, Ashleigh Draft, and Justin Wolber of Varnum.
Antitrust Regulation

Dan Mogin, Jonathan Rubin, Timothy Z. LaComb, Kristy F. Greenberg, and Jennifer M. Oliver of MoginRubin LLP
Chapter Regulation

Ronald A. Spinner and Marc N. Swanson of Miller, Canfield, Paddock and Stone PLC
Biotech, Meals, and Drug

Lynn L. Bergeson and Carla N. Hutton of Bergeson & Campbell, P.C.

Azim Chowdhury, Neelam Gill, and Josephine Hsu of Keller and Heckman LLP

Alejandro Luna Fandiño, Armando Arenas, and Gustavo A. Alcocer of OLIVARES
Enterprise of Regulation

Bill4Time

Christina Marinakis, JD, PsyD of IMS Consulting & Skilled Providers

Michael Sachs and Lee Udelsman of Main Lindsey & Africa

Matt Spiegel of Lawmatics

Merle Vaughn of Main Lindsey & Africa
Hashish Regulation

David P. Grosso and Shahiedah Shabazz of ArentFox Schiff LLP

Whitt Steineker, James W. Wright, Jr., Slates C. Veazey, Rachel M. LaBruyere, Elizabeth R. Hobbs, J. Hunter Robinson, and Claire Fox Hodge of Bradley Arant Boult Cummings LLP

Ian A. Stewart and Leia Leitner of Wilson Elser Moskowitz Edelman & Dicker LLP
Civil Rights Regulation

Angela M. Rust of von Briesen & Roper, s.c.
Contractor Regulation

Justin T. Hill of Ward and Smith, P.A.
Coronavirus Information

Mark N. Duvall, Jayni A. Lanham, and Heidi P. Knight of Beveridge & Diamond PC

Jonathan L. Israel of Foley & Lardner LLP

Michael Comartin and Gloria Ilunga of Ogletree, Deakins, Nash, Smoak & Stewart, P.C.
Company Regulation

Keith Paul Bishop of Allen Matkins Leck Gamble Mallory & Natsis LLP
Crypto/Blockchain

Andrea S. Kramer of McDermott Will & Emery

Richard B Levin, Matthew G. Lindenbaum, Robert L. Lindholm, Craig Nazzaro, Dowse Bradwell "Brad" Rustin, IV, Anastasia D. Stull, Nicolette Corso Vilmos, Jeffrey M. Kelly, and Jeffrey E. Joseph of Nelson Mullins
Knowledge Privateness Regulation

Vildan Altuglu, Vikram Kumar, Vivek Mani, and Sinan Corus of Cornerstone Analysis

Privateness and Cybersecurity Observe Group at Mintz, Levin, Cohn, Ferris, Glovsky and Popeo, P.C.

Gowree Gokhale, Aaron Kamath, and Purushotham Kittane of Nishith Desai Associates

Knowledge Privateness & Cybersecurity Observe Group at Robinson & Cole LLP
Election Regulation

Adam Diederich and Kirstie Brenson of ArentFox Schiff LLP
Employment Regulation

John F. Kuenstler, Timothy Y. Wong, and Kenneth J. Yerkes of Barnes & Thornburg LLP

Christopher R. Williams and Amelia Bowring of Bracewell LLP

Susan Gross Sholinsky, Lauri F. Rasnick, Nancy Gunzenhauser Popper, Christopher Shur, Nicole Zolla Clarke, and Kamil Gajda of Epstein Becker & Inexperienced, P.C.

Emily Burkhardt Vicente and Shane A. Le Grasp of Hunton Andrews Kurth
Environmental Regulation

Eric L. Christensen, Brook J. Detterman, David M. Friedland, Jennifer J. Leech, and Zachary B. Pilchen of Beveridge & Diamond PC

David A. Goldman of CMBG3 Regulation

Kris J. Eimicke, Merrill Kramer, James M. Avery, Andrew O. Kaplan, and Sarah B. Tracy of Pierce Atwood LLP

Rachael L. Lipinski, Jenna R. Mandell-Rice, Molly A. Lawrence, and Jonathan D. Simon of Van Ness Feldman
Estates and Trusts

David Fowler Johnson of Winstead PC
Finance Regulation

David A. Lopez-Kurtz and Vincent Mora of Dinsmore & Shohl LLP

Jeffrey P. Birdsong of Jones Walker LLP
Well being Regulation

Dr. Nick Oberheiden of Oberheiden P.C.

Lori A. Oliver and Laura Little of Polsinelli PC

Edward S. Kornreich, Whitney Phelps, Laura M. Fant, Anthony J Oncidi and Ariel N. Brotman of Proskauer Rose LLP
Immigration Regulation

Kate Kalmykov, Jennifer Hermansky, Dillon R. Colucci and Laura Foote Reiff, of Greenberg Traurig, LLP

Otieno B. Ombok of Jackson Lewis P.C.

Raymond G. Lahoud of Norris McLaughlin P.A

Greg L. Berk, Andrew J. Desposito, and Christine L. Doyle of Sheppard Mullin Richter & Hampton LLP

Carine Elliott of Squire Patton Boggs

Jennifer Cory, Susan Waller Ramos, and Jeffrey B. Widdison of Womble Bond Dickinson
Insurance coverage Regulation

Emily P. Grim, Alison Gaske, and Brandon Levey of Gilbert LLP

Matthew F. Corridor, Timothy A. Hunt, Brett J. Preston, and Erik P. Raines of Hill Ward Henderson

Steptoe & Johnson PLLC
Mental Property Regulation

Adrian Gonzalez Cerrillo and Sana Hakim of Ok&L Gates

Aaron Wininger of Schwegman, Lundberg & Woessner, P.A.
Authorized Advertising

Ross Fishman of Fishman Advertising

Melanie Trudeau of Jaffe

Kamron Sanders of Observe Panther
Authorized Podcast

NLR's Authorized Information Attain Podcast Visitor Christina R. Fritsch, J.D. of CLIENTSFirst Consulting

NLR's Authorized Information Attain Podcast Visitor Beth Cuzzone of Intapp
Legislative Information

Hunter Voegele and Ander Ugalde of Ankura Consulting Group, LLC

Roger Lee of Stubbs Alderton & Markiles, LLP
Litigation

Julie Gottshall, Janet Widmaier, Andrew Schuyler, Stacey Mckee Knight, Janella Gholian, and Michelle Gyves of Katten
Private Damage

Lawrence J. Buckfire of Buckfire Regulation

Jeffrey A. Krawitz of Stark & Stark
Securities Regulation

Michael Ruder of Cadwalader, Wickersham & Taft LLP
State and Native Regulation

Michael Gross, Marc Policastro, Paul Schneider, Steven Dalton, David Miller, and Afiyfa Ellington of Giordano, Halleran & Ciesla, P.C.

Alia Al-Khatib of Katz Banks Kumin LLP

Charlotte F. Franklin of A lot Shelist, P.C

David I. Brody of Sherin and Lodgen LLP

Jill Turner Lever, Mark A. Nehme and Patricia M. Prezioso of Sills Cummis & Gross
Tax Regulation

Jonathan Stein, Abraham Leitner, Nathaniel D. Razza, and Martha J. Nahill Frahm of Goulston & Storrs
Telecom Regulation

Brittany A. Andres of Troutman Agency
Commerce Regulation

John E. Bradley, Brent Connor, Catherine A. Johnson, and Henrietta Worthington of Vedder Value
Utilities and Transportation Regulation

Nicole M. Moran, Chanel F. O'Neill, and Laurent Samuel of Cornerstone Analysis
Whistleblower Regulation

Mary Jane Wilmoth, Kohn, Kohn & Colapinto

Tycko & Zavareei, LLP Whistleblower Observe Group

Jason Zuckerman, Zuckerman Regulation
Concerning the Nationwide Regulation Assessment: The Nationwide Regulation Assessment publishes hourly authorized information and evaluation and is among the highest-volume authorized information web sites within the U.S. The NLR was developed by company attorneys and accepts vetted contributed by-lined content material from top-tier regulation companies and our editorial workforce authors our personal authentic thought management. The Nationwide Regulation Assessment is an authorized Ladies's Enterprise Enterprise (WBE) and a Ladies-Owned Small Enterprise (WOSB). For extra info, please go to us at https://www.natlawreview.com.